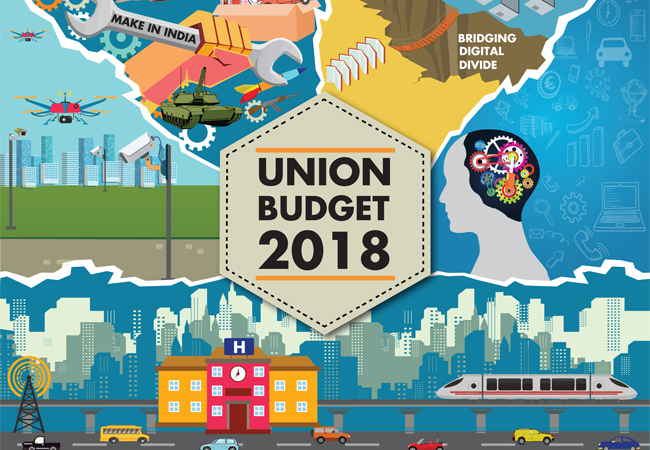 With the release of the budget for year 2018, top leaders across the Industry were quick to react to it. While reactions came out mixed, the budget was hailed to be crucial for the Technology sector, especially as it was seen as significant in realizing the PM's vision of a fully connected and empowered Digital India -

The Union Budget of 2018 was in line with the Government's mission to transform India by strengthening agriculture, rural development, health, education, employment, Micro, Small and Medium Enterprises (MSME) and infrastructure. A series of structural reforms, as pointed out by the Government is believed to propel India to be among the fastest growing economies of the world. IMF, in its latest update has forecasted that India will grow at 7.4% next year in the backdrop of services resuming high growth rates of 8% plus, with exports expected to grow at 15% in 2017-18.
This year's Budget has brought significant changes, focusing on various key aspects which are largely stressed upon the country's overall economic growth with the aim of stimulating and strengthening it – Rural, Agriculture, Ease of doing business, skilled based education, job creation, healthcare, housing, Structural reforms and infrastructure development. The Union Budget 2018 has been hailed by many as a shining example of fiscal prudence with an investment focus on Infrastructure Sector and Railways.

"It has been a balanced budget this year. The Government will contribute 12% of the wages of the new employees in the EPF for all the sectors for next three years and has proposed to make amendments in the Employees Provident Fund and Miscellaneous Provisions Act, 1952. The women employees' contribution to EPF will also be reduced to 8% for first three years of their employment against existing rate of 12% or 10% with no change in employers' contribution. A sum of Rs. 3794 crore has been provided for giving credit support, capital and interest subsidy and for innovations. Lastly, by doubling the budget of Digital India to INR 30 billion in FY 2018-19 shows the Government's vision and commitment towards digital economy," says Deepak Kumar Sahu, Publisher & Chief editor-VARINDIA.
"The Budget has largely delivered on the socio-economic agenda of strengthening the agricultural and rural economy, healthcare, infrastructure and education in the country. We welcome the greater push for digitization and increased transparency in administration," says Jatin Dalal, Chief Financial Officer, Wipro Limited.
"It can be said as quite a people-centric budget balancing nicely between a clear developmental focus without losing the sight of containing the fiscal deficit. The focus on agriculture, healthcare and education is welcome and much needed in a country like ours. The education (apart from Skilling India) investments should help realize the benefits of the demographic dividend we boast of as a country," says Snehashish Bhattacharjee, Global CEO and Co-Founder, Denave.

"The Government's vision to move from black board to digital board schools by 2022, revitalization and upgrading of education sector through increased fund allocation and focus on education related research will create a brighter future for the young. We are also thrilled with the Government's emphasis on promoting research and use cases for digital manufacturing and 3D printing," asserts Sumeer Chandra, Managing Director, HP Inc. India.

"The increased focus on higher infrastructure spends, smart cities, digital India, and healthcare is a step in the right direction. With 99 smart cities being selected and an amount of over Rs. 2 lakh crore being allocated, it will give the nation a significant opportunity to upscale its Infrastructure as a growth driver," observes Rajiv Bhalla, Managing Director - Barco Electronic Systems.

States V Ramakrishnan, CFO, TCS, "Several programs announced in the budget represent big strides in building a Digital India: the outlay for the smart cities program; the plans to explore blockchain technology; the national program for adoption of artificial intelligence and for research, training and skilling in cyber-physical systems; the innovative use of technology to digitally reimagine agricultural markets to empower small and marginal farmers; and the extending of broadband access to 5 crore rural citizens to bridge the digital divide."

The Budget was however crucial for the Technology sector, especially as the country continues to scale many milestones in the field in realizing the Hon. PM's vision of a fully connected and empowered Digital India. Though many expectations remain untouched, the budget took some bold reforms in areas such as blockchain, security, 5G infrastructure, AI and machine learning that are applauded by the industry.
Fate of Blockchain decided, No to crypto currency…
Companies across industries are now looking at Blockchain as the next game changing technology. With the Finance Minister highlighting the potential usage of Blockchain for Digital India as a part of his Union Budget speech, it can already be seen its potential reaching across non-financial sectors. The exploring of the application of blockchain in governance is a strong indicator of the government's intent to improve citizen services without compromising on security, especially as Aadhaar gets linked to citizen accounts.

The Finance Minister's in his statement also read that cryptocurrencies are not valid tender. With the Reserve Bank of India repeatedly issuing warnings against investments in crypto-currencies, the decision to ban it was seen as a logical one to prevent this sector from further growing.
Says KK Mookhey, CEO & Founder - Network Intelligence, "The move to make cryptocurrencies illegal is a major announcement; it is likely to create a negative impact on the price of these currencies, especially Bitcoin.

A better idea may have been to come out with some sort of a regulatory framework around cryptocurrencies. On the other hand, the point raised by the Finance Minister about exploring the usage of blockchain technology for payments is a very good initiative. It will support home-grown technologies that have already invested in the technology and will attract new investments in this technology."
New opportunities in area of security…
The initiatives in the Infrastructure Sector (₹ 5.97 Lakh Crore) and Railways (₹1.48 Lakh Crore) will drive the security industry in a whole new growth phase, according to many in the industry.

"Redevelopment of 600 major railway stations has been taken up. All stations with more than 25,000 footfalls will have escalators. All trains to be progressively provided with Wi-FI, CCTV and other state-of-the-art amenities. UDAN shall connect 56 unserved airports and 31 unserved helipads in the country. A fund of ₹60 crore has been allocated for disaster resilient infrastructure. These initiatives will boost the prospects of security and surveillance industry in India," reiterates Ashish P. Dhakan, MD & CEO, Prama Hikvision India.

However, there is the need felt for strengthening the cyber defense mechanism and policy. In today's age of data, protection of this data is seen as a top priority.

"The Wi-Fi hotspots, new Smart Cities, internet connectivity, investments in Telecom infrastructure and Digital India expansion are going to witness proliferation of online devices. But the hyperconnectivity towards which India is heading needs to be secured with a very sound cybersecurity policy. Data Protection is a top priority, and a security approach that leverages the power of automation, integration, and strategic segmentation backed by threat intelligence are critical to the implementation of the above programs," says Rajesh Maurya, Regional Vice President, India & SAARC, Fortinet.

The views of Shrenik Bhayani, GM, Kaspersky Lab (South Asia) are more or less on the same lines. "The aim to setup 5 lakh hotspots is a great step, which also calls the need for being alert on the cybersecurity front. People need to be educated about antivirus solutions and be made aware about not falling for phishing attacks."

"Doubling allocations towards Digital India and enhancing the National Mission on Cyberspace Security sets the tone to protect the data of India Inc. and its citizens," says Ramesh Mamgain, Area Vice President, India and SAARC Region, Commvault. "Unique IDs for companies will definitely go a long way in contributing towards interest of the nation and increasing transparency by corporates."

Boost to Make in India...
The increase in customs duty on Mobiles is believed to encourage local manufacturing. As India is becoming the global hub for manufacturing, the measures taken by the government will surely grow confidence amongst the manufacturers which will eventually create business opportunities.

"We are bullish on the 'Make in India' initiative and expect the budget propositions to provide an impetus to the manufacturing sector," suggests Rahul Agarwal, CEO & MD - Lenovo, India. "The revision of import custom duties on smartphones from 15% to 20% will significantly strengthen the manufacturing ecosystem within the country and increase domestic value addition. However, there is an immediate need to provide similar manufacturing incentives to the PC sector and accelerate the vision of Digital India."

Agrees Ashwin Bhandari, CEO iVOOMi India, "In last 2 years, the ecosystem in India has already taken first level growth and the situation has improved a lot. All the required resources for making the phones in India are stable; hence this will fuel industry growth, boom localisation to next level. However further incentivising the higher level manufacturing (Surface Mount Technology, Injection Moulding, Optical Electronics) is recommended to expedite the design and development within Indian ecosystem."

"Since the announcement of Make in India program 3 years back, over 85% of smartphones sold in country are now produced locally. So, this is opportune time to introduce next set of regulations to attract investment in the manufacturing sector and establish India as a global hub for electronics. At OnePlus, we are fully committed to the Indian market and welcome the proposed regulations," says Vikas Agarwal, General Manager at OnePlus India.

"HMD Global continues its strong emphasis on PM Modi's Make in India campaign. While the import duties for mobile phones increased to 20%, along with a 15% duty on key components, this will have a minimum impact on our business, as our entire current portfolio of Nokia phones are manufactured in India," says Ajey Mehta, Vice President India, HMD Global.

Bridging the digital divide…
Digital India continues to be the thrust of emphasis in the Union Budget 2018. The government's move to invest in over 5 lakh WIFI Hotspots and broadband access to 5 crore rural citizens will enable rural India to have Broadband access which in turn will be a significant stepping stone in the Digital India movement and will supplement the IT penetration in the country.

"There is a clear focus on creating a digital economy through sizeable strategic investments in developing the requisite infrastructure," says GB Kumar, Vice President – India and APAC at Prysm Inc. "A commendable announcement was the allocation of INR 10,000 crore to the BharatNet project. The government's announcements that promote digitization through greater connectivity will fuel uptake for collaboration and remote working solutions resulting in a more productive and connected India."

"The Government of India has made great strides towards digital enablement over the last few years. Setting up of half a million Wi-Fi hotspots, and push for digital payments are definitely positive signs," comments Gaurav Agarwal, Managing Director, India & SAARC, Symantec.

Jay Chen, CEO, Huawei Telecommunications India says, "We applaud the forward looking Union Budget 2018 where the Hon'ble Government is extensively focusing on digitalization with further support to initiatives like Digital India, Smart Cities, Swachh Bharat among others. The Union Budget laid down plans to connect additional 1.5lakh gram panchayats with fibre optic networks under the BharatNet. This will create access and affordability and will help in bridging the digital divide even further."
More impetus to machine learning, AI, 5G infrastructure…
The government's move to double the allocation on the Digital India programme to₹3,073 crore will help in research and skilling in Robotics, Artificial Intelligence (AI) and Internet of Things (IoT), among others. The government in its budget also resolves to support the establishment of centres of excellence for Research, Training and Skilling in Robotics, AI, Digital Manufacturing, Big Data Analytics, Quantum Communication and IoT.

"Today's Budget clearly pivots on a digital-first India, and the recommendations made by the FM relate directly to the potential we see in the country. The NITI Aayog's effort to institutionalize research and development in artificial intelligence reinforces the value that machine learning can bring to issues of national importance. If synergized with the work being done by the academia and industry, we can expect fast emerging use cases that can democratize AI in India. Finally, the DoT's establishment of an indigenous 5G center is an encouraging sign of the government's view of collaboration with the broader technology ecosystem as the best strategy to accelerate the rollout of 5G infrastructure in India," says Prakash Mallya, Managing Director, Sales & Marketing Group, Intel India.

Rajesh Rege, Managing Director, Red Hat, India and SAARC too congratulated the Budget by stating it to be a well-rounded budget. "Emphasis on education, entrepreneurship & healthcare was much needed and is welcome. FM's comments on AI & Blockchain are a step in the right direction & we look to an early implementation of these initiatives," he said.

"The emphasis is on establishing a programme to bring in direct efforts towards building a holistic ecosystem for Artificial intelligence. The focus on AI is a welcome move towards technological advancements in India and an allocation of INR 3073 crore for the Digital India scheme will certainly propel digital adoption and smartphone adoption in the country," says Rajesh Aggarwal, Co-Founder, Micromax.

"The last few years have seen large initiatives designed to bring about substantive change. The focus on wide scale broadband access, on Machine learning, AI and robotics, on R&D as well as skilling, and on Smart Cities will keep pushing India's Digital agenda, well supported by the additional fund allocation. It is a quietly progressive budget, and timed well to focus on readying all cross sections of Indian society to reap the benefits of the future," says Anil Valluri, President, NetApp India & SAARC.

"We applaud the government's vision and commitment towards Digital India and the Digital economy. We are also enthused to see that Niti Aayog, will now be spearheading a national program to direct efforts in Artificial Intelligence, Quantum Computing, Blockchain, Robotics, and Digital as a way of life. The industry welcomes these timely initiatives. The support extended to IIT Chennai for an indigenous 5G test bed is also a welcome move," contends Rajan S. Mathews, Director General - COAI.

However, according to Rajan Mathews, none of their key asks pertaining to the telecom industry have found mention in the FM's budget. "We had sought a reduction in levies and taxes, and an urgent intervention is critical for resuscitating the sector, which is currently experiencing its worst financial health and hyper competition. While, the FM has emphasized the importance of moving to a digital economy, the actual digital highway, which is telecom has found no mention in terms of substantive support, unlike road, railway, highways, electricity, which have received substantial mention. We are saddened to see that telecom which is the bedrock for moving the Digital economy forward, continues to remain an Orphan."