Movers and Shakers - VARs & Solution Partners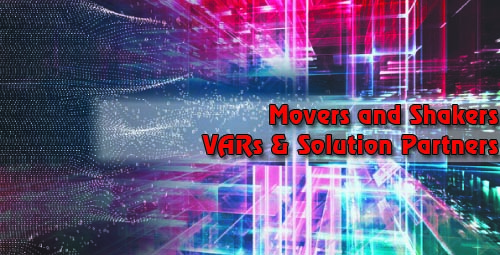 As the era of digital business is here, the question is will you capitalize on the opportunity, or will your competitors. A big opportunity seems promising globally.
India is a tremendous source of talented employees across our business functions. It is a country that has several leaders who believes in the power of what technology can do for the future and the growth of Indian IT Services companies, which is impacted by lower demand led by uncertain macro-economic environment, lower deal sizes in digital technologies, cloud adoption and high competitive intensity from local as well as international players. Future growth will be supported by higher spend on digital technologies, continued cost benefit offered through outsourcing model and market share gains. We expect large Indian IT companies to grab a higher share of the digital services space over the next three years. Since, 67% of CEOs are already incorporating IT in their corporate strategy.
Given the scale of breaches seen in 2017 coupled with the maturing threat horizon, organizations want to turn to a managed security services model to improve their it security efficiency. Secondly, the strategic use of IT, organisations can enhance their operational performance and increase their competitive advantage over competitors. Network Solution Partners (NSPs) and Solution Partners (SPs) are looking at innovative ways for addressing current business challenges while making the transition to more socially connected, more mobile, more accurate, virtualized and secure systems. SPs work in specialized areas and they must make the commitment to deliver the highest technical solutions and customer service. When we think of the ICT industry, Technology aids business to manage contacts, maintain the flow of data, track process and even maintain the records of business and employees.
Secondly, Independent Software Vendors (ISV) and Application Service Providers (ASP) an application service provider (ASP) is defined as an enterprise that delivers application functionality and associated services across a network to multiple customers using a rental or usage-based transaction-pricing model. The ASP market is composed of a mix of service providers (Web hosting and IT outsourcing), independent software vendors and network/telecommunications providers. ISVs are the organizations that exclusively develop software or software solutions instead of being part of a computer system or being a hardware manufacturer. The ISVs get encouragement and support from firms like Microsoft, IBM, Salesforce.com, Hewlett-Packard, Oracle and Apple who provide the platforms. As the demand for open source solutions increases players like Red Hat, Pegasystems, Suse, Zoho, Linux and other open stack developers make ISVs to deliver superior solutions to their customers. To sum up, ISVs make and sell software that is added to platforms.
It is tempting for software vendors to enter into a partnership with ISVs or ASPs who provide them the business acumen in delivering superior solutions to their customers with simplified licensing option and to work closely with the software products that run on one or more operating system platforms and computer hardware.
Lastly, the role of Application Service Provider (ASP) to operate effectively and efficiently with optimising the operation costs in the form of access over the Internet is also very important. An ASP is a vendor that provides individual users or an entire enterprise with software applications over a network, usually a local area network (LAN) or an LAN with Internet access. Companies that make platforms like Microsoft, IBM, Apple, Zoho, Intuit and others encourage and lend support to ISVs, often with special "business partner" programs and is also called them as VARs ( Value Added Resellers). Taking into account the role played by the VARs (ASPs & ISVs) in the whole ecosystem, we think it imperative to give attention to the solution partners. Below is the rundown of the ASPs and ISVs in India.