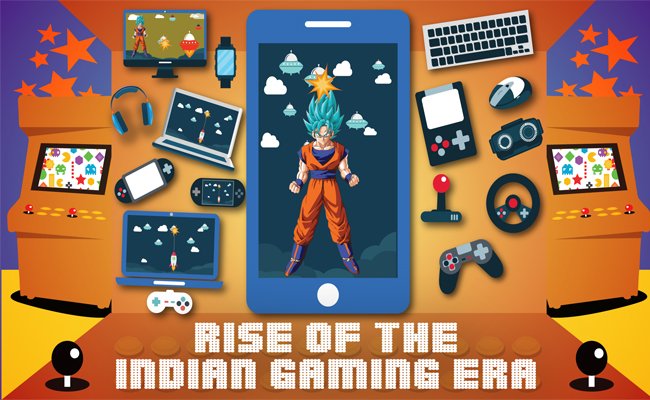 A country having the world's second largest online population, the second largest smartphone user base, and the fastest growing smartphone market is poised to become one of the fastest growing mobile gaming markets in years to come -

Gaming in India is growing to have a huge fan base. The Indian online gaming industry is speculated to add 190 million gamers and become a $ 1 billion opportunity by 2021, from $290 million in 2016, as revealed by KPMG and Google's recently released report titled 'Online gaming in India: Reaching a new pinnacle'. The segment is projected to grow at a CAGR of 6.61%, in value terms, over the next five years with more than 300 gamers in India. The market is witnessing a massive evolution in terms of its accessibility and adaptability and the key driver has been the proliferation of low cost smartphones amongst urban and rural population.

Undoubtedly, with one of the youngest population in the world, India is one of the fastest growing markets for gaming. The reason why the gaming market in India is making huge strides can be attributed due to rising income levels, advancement of technology, trend of individual escapism and increase in internet penetration.

Not just entertainment, gaming is gradually growing as a compelling profession in India. There are gamers today who play different genre of games such as MOBAs, FPS, RPGs and many more. The concept of eSports events is also slowly rising in the country. 2017 alone had eSports / competitive gaming events with a total prize pool of USD 320,000 / 2 Crore (according to AFKGAMING.com).

Gaming - a growth catalyst for businesses...
With the PC industry evolving, factors like gaming notebooks, hybrids, convertibles and Ultrabooks are driving industry growth. PC gaming is seeing a revolution and that is where PC and laptop makers got an opportunity to research and bring in the fascinating innovations in gaming. The booming industry has given a platform to companies to tap the gaming enthusiasts and build a community to take gaming to a new era. There is indeed great scope in Indian market for vendors who are currently eyeing the gaming segment.

It is true that gaming as an industry is not new to India but is getting a wider acceptance, on a professional level, for the last couple of years. "It's not long back when the gaming communities in India were fragmented and existed in isolated pocket regions. Conscious efforts and focused investments by brands like HyperX have resulted in their unification to a certain extent and created more competitive communities," states Vishal Parekh, Marketing Director, HyperX and Kingston Technology – India.

Vishal however states that though gaming is an exciting segment to deal with, the Indian gaming industry requires to be dealt with a bit differently.
There are 3 growth catalysts for the gaming Industry – Games, Hardware and Community, according to Deepak Gupta, Country Manager-India, Zotac. "The fact that we provide world class hardware is an opportunity, and considering there are 15 million gamers in India and not everyone has the best hardware to game on, ESport iCafe will be a revolution in coming years for us. India is on the verge of a revolution that will stem from eSports cafe and will serve as a hub for local players and fans alike," says Deepak.

Vamsi Krishna, Head - Consumer Marketing for South Asia - NVIDIA reiterates that gaming as an industry fuels a lot of business opportunities like gaming cafes or eSports gaming cafes. "We believe that India has the potential to become a leading market for the gaming industry and NVIDIA is helping India reach that level by promoting an international standard among gaming cafes, at a time when Internet connectivity is getting cheaper and more accessible."

Romeo Misao, Marketing Manager - ViewSonic India too feels that the gaming industry is proving to be a far superior catalyst to create numerous business opportunities. "The gaming industry has become a multi-million dollar business," he says. "There are thousands of companies developing and publishing games. The game designing and creating industry was a fairly small until very recently. India was an outsourcing hub for foreign gaming companies. This was simply because gaming was not considered a mainstream form of entertainment back in the day. In the near future, the country has a huge potential of becoming a global centre of developing and manufacturing various gaming technologies."

Alok Choudhary, Group Business Manager, Rashi Peripherals says that the Gaming industry is predominantly divided into two major categories: Gaming Hardware and Gaming Applications and both the categories have huge potentials to grow. "While the Gaming Component market is growing at a steady rate, there is a huge demand for Gaming developers. Gaming PCs require different high-end configurations of RAM, Graphics Cards, Fancy Cabinets, RBG lights, Keyboards, and Mice. Therefore, DIY PCs for extreme Gaming are high in demand. Similarly, it is also giving a major boost to other industries such as Animation, VFX industry, Gaming events and Internet cafes. Gaming is a very dynamic industry and hence, there is an ample scope for innovation and creativity in this space. Hence, Gaming brands and developers are experimenting various innovative things to develop the industry," he says.

"We have observed that the gaming industry is hugely benefitted by advertising," observes Rajesh Thadani, Executive Director- Consumer Business & E-commerce – Lenovo India. "Revenues that are generated through advertising is benefitting the mobile gaming companies enormously. Brand visibility in the form of placing logos or even brand names in the games, fetching the gaming community's attention while using the app and even engaging them through advertisements is actively followed by big brands in the country."

He also points out that AR/VR too are emerging business opportunities that gaming companies are targeting currently. In fact, many industry insiders agree that VR is shaping up to be the biggest gaming trend for 2018.

"The gaming sector boom is certain to drive growth in the IT and telecom industries in India. India has ingenious talent pool in the IT and programming sectors that will play a significant role in the development of superior games and at reasonably lower costs. Lastly there are serious players and investors that have entered the gaming industry, who are expected to facilitate its further growth," says Rajesh.
Gaming will also create new business opportunities in education, gamification and entertainment sectors, as opined by Roopak Nair, VP – Products & Marketing – JetSynthesys. "Online games have captured the imagination of millions of Indians who experience games for the first time on a mobile device. Better hardware and data speeds have meant that new and high-quality games will continue driving device adoption in the future. Besides, the education space can be transformed with gamified experiences delivered through VR and learning based games which will see more adoption in the near future since games are consumed by all genders and age groups alike. In the corporate sector, the need for gamification for various processes from hiring, to training professionals on new courses, to assessment of skills is already taking shape. And finally the entertainment sector which has shifted to video and social media consumption on mobile will see merging of these trends as games become consumed more through e-sports and live streaming as much as prevailing entertainment shows of today as the market for competitive gaming mushrooms in India," he explains.

In spite of gaming becoming an important segment, the fact still remains that there are 12 to 15 million gamers in India and only about 300 decent gaming cafes across the country. Comparing this scenario with China which has 60 million PC gamers with 160,000 eSports Cafes, India is grossly underpenetrated in this segment. In terms of revenues too, India still pales as compared to China and the West.
---
Top 5 Picks by VARINDIA
Dell Inspiron 15 7000 - A powerful laptop tailor-made to meet the needs of enthusiasts, and raising the bar for Dell's most aggressive performance design and components offered within the Inspiron Gaming laptop family. It is powered by Intel Core i7 quad-core processor combined with NVIDIA GeForce GTX 1060 discrete GPU with NVIDIA Max-Q Design Technology & 6 GB of blazing fast GDDR5 memory, offering overwhelming performance. For easy connectivity, Inspiron 15 7000 Gaming sports Thunderbolt 3 port (USB 3.1 Gen 2 Type-C with support for 40 Gbps Thunderbolt and DisplayPort).
Omen 15 & Omen 17 by HP Inc – The laptops are completely reinvented and redesigned in 2017 to offer a design built for gamers, with more expansion capabilities, additional ports and VR compatibility. They are housed with high-performance NVIDIA GeForce GTX 1070 for the graphics horsepower to run games at 1080p/2160p) and beyond and powered by 7th-gen Intel Core-i Quad Core CPUs for raw computing power to handle massive multiplayer games, serious multi-tasking or the latest eSports titles. The laptops also have dragon-red backlit keyboard with three backlight options optimized for gaming with red accented WASD keys and white backlight for easy identification.
Lenovo Legion Y520 - Equipped with up to 7th Gen Intel Core i7 CPU and the latest NVIDIA discrete graphics cards, the Legion Y520 has an aluminum-brushed body and weighs less than 2.5 kgs. The device allows gamers to custom tune audio with the 2 x 2W Harman speakers and Dolby Audio Premium for an outstanding audio quality even without headphones. The Legion Y520 laptop has an optional red backlit keyboard that provides 1.7 mm of key travel for responsive keystrokes. The laptop comes with up to 128GB of PCIe SSD storage, ideal for reducing boot-up time and in-game loading, or 1TB of HDD storage.
Asus ROG Strix GL503 – The laptop is made for those on the go, with a 15.6-inch display, as-thin-as 2.3cm profile and a frame that's as lightweight as 2.5kg. It is engineered with up to the newest Intel Core i7 processor, up to NVIDIA GeForce GTX 1060 graphics, and Windows 10 Home, Strix GL503 that equips the gamer to control the competition. Its understated, black brushed-metal cover conveys an inner focus and sophistication possessed by the most dedicated players. It offers up to 32GB of fast DDR4 2400MHz memory.
Acer Predator Triton 700 - The Predator Triton 700 houses the high-performance NVIDIA GeForce GTX 1080 (overclockable) GPU and 7th Generation Intel Core i7 processors in a svelte 18.9 mm-thin (0.74 inch) aluminum chassis. Acer's AeroBlade 3D metal fans increase airflow by 35 percent yet take up less space within the device. Two NVMe PCIe SSDs in RAID 0 configuration and up to 32 GB of DDR4 2400 MHz memory helps the system run at peak performance. The VR-ready Predator Triton 700 offers bright, vibrant visuals on a 15.6-inch Full HD IPS display with 120Hz refresh rate and supporting NVIDIA G-SYNC for buttery-smooth gameplay.

This is because India Gaming industry is still in its nascent stage, as pointed out by Siddharth Jatania, MD - ADATA India. "But in spite of the vertical being very niche at present, more and more partners are now interested in promoting gaming products in Tier 2 – Tier 3 cities as well. Companies also understand its importance and have started focusing on it."

Opportunities for Brands...
Technology has indeed taken big leaps in the recent years. More and more gamers are getting inclined towards gaming as a result of advancements in technologies like Virtual Reality, 4K video and Mixed Reality. The demands and expectations of consumers have also increased now. Gaming laptops have come a long way and with each passing day, they are becoming as powerful as desktops. Rapid changes in the gaming industry are expected to offer new opportunities for developers, publishers as well as technology partners in the future, and this is all anticipated to grow the India gaming market by 2022. Hardware brands like Kingston, Lenovo, Asus, Dell, and Samsung have brought in many technology advancements to support the gaming market in India.

In particularly the gaming market in India, Viewsonic provides consumers with top of the line gaming monitors which are a part of its XG series and VX57 series. "In India, we have recently launched the XG2402 monitor which features an incredible 144Hz refresh rate, as well as AMD FreeSync technology and "Rampage X Lighting" to cater to the RGB lovers when it comes to PC setup. ViewSonic also offers some of the fastest 1ms response time monitors (VX57 series) for console gamers, XG2530 super-fast 1ms with 240Hz refresh rate monitors for their high end gaming requirements and the WQHD SuperClear IPS XG2703-GS gaming monitors with G-Sync for NVIDIA GPU lovers," says Romeo.

HyperX, as a brand, believes in bringing the best technology to consumers in India to enhance the user experience. "Not only that," says Vishal. "We also work with our partners to help them formulate a good pricing strategy. For example, we have the best-in-line gaming peripherals like the HyperX Revolver S headset with 7.1 Dolby surround sound or the premium Alloy Elite mechanical gaming keyboard with media keys. Our involvement in the gaming brands and communities gives us a chance to get a proper user feedback, which we try to use to incorporate in the next generation of products."

In its quest to provide customers the most immersive PC gaming experiences, Lenovo has spent considerable time building and listening to a community of gamers to better understand what they value most. "In 2017, we launched a dedicated sub-brand for Lenovo gaming PCs – we call it Lenovo Legion. The new gaming sub-brand offers gamers powerful gaming devices and community engagement. It's a user experience designed around what they're passionate about – the most immersive gaming experiences. Just as the Roman army shared a common purpose that bound them together as a force to be reckoned with, the Lenovo Legion is all about our growing community of gamers and their passion for gaming," says Rajesh.

Rashi Peripherals as a Gaming Component Distribution power-house in India is heavily promoting DIY Gaming PCs through its various marketing initiatives and awareness campaigns to nurture a Gaming culture in the country. "We are the leading player in the Component business and almost 80 percent of the components are distributed by us through our 51 branches to 9000 plus partners pan India. We are also developing an online configurator, where Gamers can choose their respective components and place the order. It is our aspiration to make all the gaming requirements easily available at consumer doorsteps. The industry is set to grow further and we will continue to expand our Gaming portfolio to serve the demand for high-end Gaming solutions," explains Alok.

ADATA has a dedicated gaming brand 'XPG', through which it reaches out to gamers. "From Increased speed of gaming DRAM up to 4600MHz, high speed M.2 SSD`s in small form factor to RGB solution technology embedded in DRAM, mouse and mouse pads to headsets with 3D surround sound, we are doing our part for be upbeat with the gaming industry and push gaming to next level," comments Siddharth.

Roopak is super excited about the wave of new technology be it Virtual Reality, AR or Smart Watches which will enable gaming on the go and make it a much more physical and connected experience in the future for all gamers. "Our current game Sachin Saga, is already the fastest and most downloaded cricket game ever in the first month of its launch with our first mobile eSports event kicking off with close to 20,000 players competing in the qualifiers, leading upto the finals on January 19 at the India Gaming Show. It was also the first cricket game where we motion-captured Sachin Tendulkar with more than 36 cameras so that the experience is as real as it gets for the player."
Indian Gaming Trends in 2018
eSports to gain prominence – With eSports being the most viewed event worldwide, this organized video gaming events and tournaments will rise to prominence in 2018. The concept of eSports events is also slowly rising in the country. 2017 alone had eSports / competitive gaming events with a total prize pool of USD 320,000 / 2 Crore. eSports is estimated to be worth about $1.5 billion by 2020 — based on a projected compound annual growth rate of 32 percent.
Virtual Reality (VR) will go mainstream - While there are already lots of developments in the VR area, the virtual reality gaming market is projected to exceed $45.09 billion by 2025. VR too is emerging as a big business opportunity that gaming companies are targeting currently. In fact, many industry insiders agree that VR is shaping up to be the biggest gaming trend for 2018.
Multiplayer Online Games (MMO) will be on rise - Multiplayer online game is an area in which developers are very eager to work. In recent years, developers have focused on it by creating a game world featuring real people, where one can interact with each other. This will see a further momentum in 2018.
Game development will see a new boom - The gaming sector boom is certain to drive growth in the IT and telecom industries in India. India has ingenious talent pool in the IT and programming sectors that will play a significant role in the development of superior games and at reasonably lower costs.

Acer is betting big by focusing on bringing powerful and unique gaming innovations that offers exceptional performance within a wide range of budget. "We see a huge potential for gaming laptop in India, as the hardware components are becoming more compact and powerful day-by-day, perhaps making laptops lighter, sleeker and compact. We recently launched Predator Triton 700, Predator 21X in India, Triton 700 is one of the thinnest gaming laptop in the world that offers high end gaming experience while Predator 21X is world's first most powerful curved screen gaming laptop. Besides this, we also introduced wearable gaming device- "Acer Mixed Reality Headset" that incorporates the best of AR and VR in a single device. In order to gain even stronger foothold in the gaming industry, we plan to bring many more innovative to India in 2018," states Chandrahas Panigrahi, CMO and Consumer Business Head, Acer India.

Samsung recently launched its Curved Monitor in India, with 49-inch ultra-wide display. It is a perfect companion for gaming enthusiasts. "For the gamers, it is essential to have a monitor that can keep up with the intense demands of today's high-end games, without lagging or stuttering, and provide an immersive experience in the process. And Samsung's gaming monitors are made keeping the users' experience in mind. The monitors also help prevent eye strain and fatigue with embedded flicker-free and Eye Saver technologies," says Sukesh Jain, Vice President, IT & Mobile Enterprise Business, Samsung India.

After monitors the next important thing for gamers is the storage solutions and Samsung has memory drives specially focussed for gamers. With the Samsung NVMe (Non-Volatile Memory express) SSDs (Solid State Drives) gamers can seize a competitive advantage over rivals and experience superior gameplay. Samsung also has the Game Launcher App in its smartphones and tablets which provides gamers with a more user-friendly and immersive gaming experience, facilitated by various customization options.

Gear VR is another contribution by Samsung to the gaming industry and with the multifunctional controller, it adds comfort to the Gear VR experience by placing the device's controls in the user's hands rather than on the headset itself and let them play ultrarealistic VR games.
For NVIDIA, technologies like 4K, HDR, Augmented Reality/ Virtual Reality are going to be big game-changers for the gaming industry. "Gaming at 4K resolution has been a dream for gamers for years. 4K displays with resolutions of 3840x2160 are now available at very affordable prices, and next-generation Pascal-based graphics chips that power GPUs including the GTX 1080 and GTX 1080 Ti are available to drive those extreme graphical demands. High Dynamic Range (HDR) Displays allow for more vibrant and realistic graphics for games. Last year NVIDIA announced 4K G-SYNC HDR displays, the first ever HDR monitors designed specifically for PC gaming, featuring high refresh rates, custom panels, Quantum Dot technology and support for HDR10, the HDR format being adopted for PC gaming. And because G-SYNC HDR displays are designed for PC gaming, they have near-zero input latency compared to HDR TVs, for fluid and responsive gameplay," asserts Vamsi.
Gaming innovations at CES 2018
HyperX (Kingston): HyperX announced three new products - wireless gaming headset, the HyperX Cloud Flight (its first Wireless gaming headset), an expanded suite of RGB gaming peripherals including the Alloy Elite RGB (Mechanical Gaming keyboard) and Pulsefire Surge (RGB Gaming Mice).

Asus: ASUS Republic of Gamers (ROG) unveiled its latest line-up of gaming gear at CES® 2018, including the ROG Strix SKT T1 Hero Edition laptop, ROG Strix GL12 desktop, ROG Strix Flare RGB mechanical keyboard, ROG Aura Terminal addressable RGB controller, ROG Spotlight RGB projection light and Bezel-free Kit display accessory.

Corsair: Corsair has announced a complete range of new performance wireless gaming peripherals. Powered by CORSAIR UNPLUG and PLAY wireless technology, the K63 Wireless Mechanical Keyboard, K63 Wireless Gaming Lapboard, DARK CORE RGB Wireless Gaming Mouse, and MM1000 Qi Wireless Charging Mouse Pad allow PC enthusiasts and gamers to experience wire-free gaming without compromise.
Dell: Dell is announcing a new VR-ready Dell Inspiron Gaming Desktop starting at just $799 to reduce the entry cost of VR. Engineered for PC gamers, the new Inspiron Gaming Desktop features 8th Gen Intel Core processors with up to six cores and graphics, solid-state drive options for faster boot-up times and intelligent thermal design for longer gaming sessions.
MSI: The MSI GE63 Raider RGB Edition bagged the Best Gaming Laptop award at this year's CES 2018. It's an impressive gaming laptop – inside and out. It features RGB lighting that can sometimes look a little garish, but it works brilliantly, turning the MSI GE63 Raider RGB Edition into an eye-catching device that really stands out from the crowd.
Gigabyte: Gigabyte had several motherboards on display at CES including an AMD AM4 motherboard, the AORUS X470 Gaming 7 WiFi with an unreleased AMD 400-series Promontory chipset. These new motherboards will debut in the April timeframe. It is a high-end gaming focused motherboard and should allow enthusiasts eyeing a Ryzen or Zen+ (Ryzen 2000 series) processor to push it as far as possible.
Acer: Acer announced its first modern laptop that uses an AMD processor and an AMD Radeon discrete graphics chip. The Nitro 5 is a multimedia-focused notebook that will be available this April in various configurations targeted at people with different budgets and needs.
AMD: Alongside announcing the first desktop Ryzen processors with built-in Radeon Vega Graphics, AMD detailed the full line up of Ryzen mobile APUs including the new Ryzen PRO and Ryzen 3 models, and provided a first look at the performance of its upcoming 12nm 2nd generation Ryzen desktop CPU expected to launch in April. In graphics, AMD announced the expansion of the "Vega" family with Radeon Vega Mobile.

"Zotac is the No.1 Graphics brand in India and looking on the opportunity in gaming segment. This year we have a new gaming line up which includes MEK1 Gaming Desktop PC and ZOTAC MAGNUS MINI PCs which is meant for enthusiast gamers and very portable to carry for LAN parties," says Deepak.
"We, at Rapoo Technology have a full range of accessories for customer to support all formats of gaming i.e. PC Gaming, Mobile Gaming & Console gaming. We have recently launched our exclusive gaming brand in India called VPRO, which caters specially to the growing demand of gaming accessories in India," tells Mukesh Chaudhary, Country Head-India, SAARC & ME, Rapoo Technologies India.

And so...
The gaming market in India is still smaller compared to other South East Asian countries like China, Philippines and Thailand. However, India has a definite growth potential in the near future, considering the fact that India has a large population, especially youth who form a major chunk of the gaming market.
The increasing focus of gaming companies towards Augmented Reality (AR) and Virtual Reality (VR) related games is also expected to boost India gaming market in coming five years. Factors like VR, AR and MR will push the boundaries even higher. With the current rate of technological innovation, there is a huge potential for this industry. In addition to this, the Indian gaming industry has been advancing from casual to serious gamers and thus there lies a massive scope in reaching out to the bulk of untapped gamers across Tier I and Tier II cities.

Samrita Baruah
samrita@varindia.com